The Niantic River Watershed Protection Plan (NRWPP) was produced for the communities and advise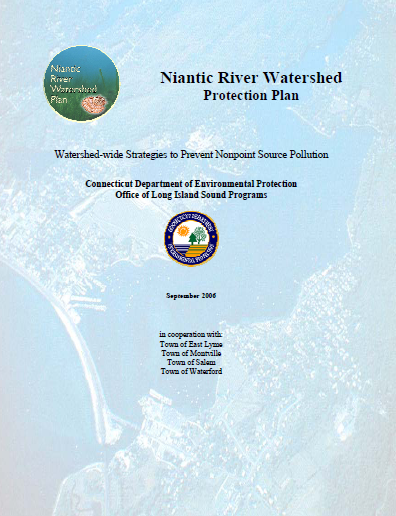 d by a Steering Committee with the vision to improve water quality throughout the watershed, eliminate shellfish bed closures, support fish and wildlife habitat, and provide safe and healthy recreational areas.
The Niantic River Watershed Protection Plan was completed in 2006 under the consulting team, Kleinschmidt Associates, and was made possible by a one-time grant from the National Oceanic and Atmospheric Association's Office of Ocean and Coastal Resource Management (OCRM) .  It offers detailed information on environmental issues specific to the Niantic River, a Vulnerability Analysis of key parcels within the watershed, and strategies aimed at addressing identified water quality impairments.  The full plan can be viewed online at this link.
This plan takes a watershed approach to addressing the problems of non-point source pollution associated with the Niantic River, rather than a site specific approach.  It considers the hydrologic, or watershed, boundaries of the Niantic River to characterize pollution sources and to develop strategies to address them.  Through this scope, the characteristics and land uses of the watershed were examined to better understand the current and potential risk of non-point source pollution.  Based on these risk assessments, it can then be determined what measures should be taken to decrease non-point source pollution to protect the Niantic River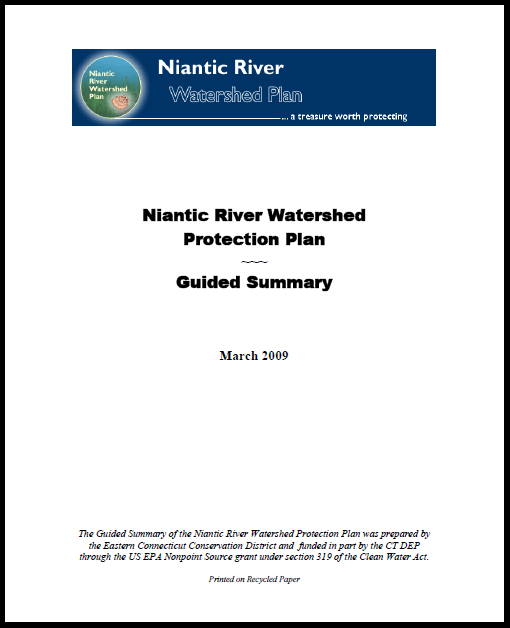 and its tributaries.
The Guided Summary of NRWPP was produced for the purpose of providing town officials, commission members, business owners, homeowners and the general public a shortened account of the highlights of the full plan.  It has been organized in a format that describes the watershed management concerns then outlines the goals, objectives and recommendations.  Throughout the text, references to sections in the full plan are included, so that the reader may conduct further research into an area of interest.  To a great extent most of the wording, tables and maps are taken directly from the original plan, with editing, updates  or clarification included, as warranted.
The purpose was to offer a concise description of the water quality impairments affecting the watershed and to provide a focused directory of recommendations aimed at reducing those impairments.  With this condensed tool, it is anticipated that stakeholders will have a better understanding of the relevant issues, be able to determine their role in the decision-making process and take appropriate actions.
The Guided Summary was prepared by the Eastern Connecticut Conservation District and funded in part by the CT DEEP through the US EPA Nonpoint Source grant under §319 of the Clean Water Act.