What is the Niantic River Watershed?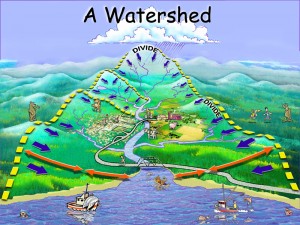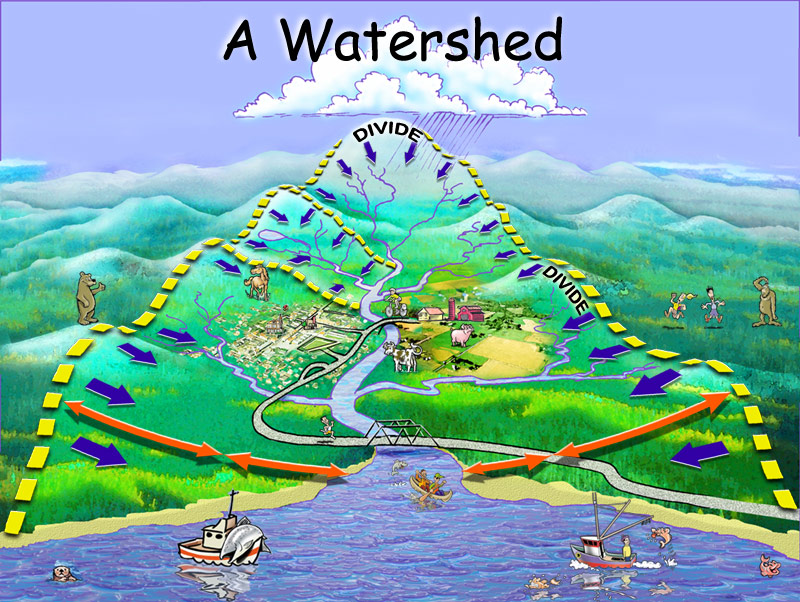 The Niantic River watershed is all the land that drains to the Niantic River.  Local water features such as Fairy Lake, Horse Pond, Barnes Reservoir, Bogue Brook Reservoir, Lake Konomac, Darrow Pond, Latimer Brook, Oil Mill Brook, and Stony Brook, as well as the Niantic River itself, are all part of what we call the Niantic River Watershed.  The watershed covers 31.3 square miles, or approximately 20,000 acres and includes areas from the four towns of East Lyme, Waterford, Salem, and Montville.  For more information on watersheds, visit the US EPA's Watershed web page: http://water.epa.gov/type/watersheds/index.cfm.
The Niantic River Estuary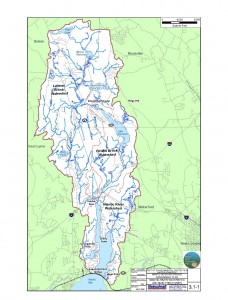 The Niantic River is an estuary.  Fresh water drains from a small coastal watershed to a tidal embayment where fresh water mixes with the salt water of Long Island Sound.  Many people relate to the Niantic River as a body of saltwater that provides access to the Sound and to a rich variety of marine resources.  Others make connections to local freshwater streams and ponds through recreational activities such as fishing and swimming.  For citizens of Waterford, including Quaker Hill, and New London, the freshwater resources in the watershed provide drinking water to 13,000 homes and businesses.
The shallow marine estuary of the Niantic River was formed when sea level was at an elevation high enough to flood the low lying coastal valley.  The river has historically supported healthy populations of shellfish, crustaceans, and finfish and also provides excellent bird habitat as ospreys, herons, kingfishers, and cormorants may be observed at various times throughout the year.  A fish ladder installed in Latimer Brook just north of I-95, allows the passage of species such as alewives and sea-run trout to spawning areas upstream.  Visit http://www.ctriversalmon.org/runs.html for information, fish counts and video clips of the fish ladder and fish runs.
For more on estuaries, visit http://www.estuaries.gov/About/Home.aspx.
To learn more about Long Island Sound, visit the  Long Island Sound Resource Center  – http://www.lisrc.uconn.edu/lisrc/index.asp   and the Long Island Sound Study website – http://longislandsoundstudy.net/.
To learn about the importance of eelgrass to the estuarine ecological community, visit Seagrass.LI –
http://counties.cce.cornell.edu/suffolk/habitat_restoration/seagrassli/ecology/fauna_flora/scallops.html.
Migratory Birds
  According to Min Huang, CT DEEP Migratory Game Bird Program Leader, the Niantic River harbors relatively large concentrations of resident mallards, Canada geese, and feral mute swans throughout the year.  The largest concentrations of resident waterfowl are typically found in the upper reaches of the river.
These birds will stay in the upper reaches of the river until ice forces them further downstream.  In the fall, winter, and early spring the lower river holds large numbers of wintering diving ducks such as hood mergansers, bufflehead, and red-breasted mergansers.  The bay, south of RT 156, attracts large flocks of Atlantic brant and, to a lesser extent, common goldeneye during the winter months.
 Oswegatchie Hills
In East Lyme, the area known as Oswegatchie Hills consists of over 700 acres of valuable land that offers great recreational potential because of its interesting terrain and diverse wildlife.  It is also one of the largest stretches of undeveloped waterfront land in Connecticut.  The Waterford shoreline along this reach consists mainly of sandy beaches and gradual wooded slopes with moderate density residential development. Click here to learn more about the Oswegatchie Hills.
Why Are We Concerned About the Niantic River?
The Niantic River is not currently meeting the CT Department of Energy and Environmental Protection's water quality standards.  It is not supporting aquatic life known to inhabit the estuary in the past.  Symptoms of this condition include algal blooms, seasonal variations in eelgrass populations, loss of scallop populations, and changes to the fish communities.
The cause of this impairment to aquatic life is not completely understood; however, there is a building body of scientific evidence that states that the river is overloaded with nutrients, primarily nitrogen.  Nitrogen enriches the brackish Niantic River water, like fertilizer on a lawn, increasing algal and plant growth.  Like bacteria, nutrients flow to the river with stormwater and are considered a problem of non-point source pollution.
What is non-point source pollution?
Non-point source pollution happens when rainwater, snowmelt, or irrigation water runs over the land or into the ground and picks up pollutants, and  then deposits them into streams, lakes, estuaries, or groundwater.  It can include nutrients, bacteria, oils, sediment, salt, and heavy metals. To learn more about NPS, visit the US EPA NPS website.
What Can I do to Help?
A Niantic River Watershed Protection Plan has been completed and public support is necessary to ensure that the recommendations are implemented.  To find out more information about the plan and the watershed and what you can do in your own backyard, click here:
The Niantic River Watershed Website is funded in part by the CT DEEP through a US EPA Nonpoint Source grant under §319 of the Clean Water Act.